News & Events
March -  Walk 4 Jackson
UCM's annual walkathon fundraiser. Includes music, raffles, and more!
May - Annual "Can Day" with Dillsboro Rafting Company
Each May, Dillsboro Rafting Company sponsors a food drive to benefit UCM. A donation of 10 cans of food allows you to raft for free! 
November - Thanksgiving Meal Kits
Each Thanksgiving, UCM creates a meal kit with an assortment of food items to help provide a Thanksgiving Meal. Items in the kit may change from year to year. (We do not provide turkeys.)
December - Christmas Break Bags for Schools
Each year, UCM provides a special bag of food for children in Jackson County Schools. Over 500 children who receive free breakfast and lunch at school will go without during the long Christmas break, so UCM partners with Jackson County Public Schools to create food bags to go home for the holidays. Local churches and individuals donate needed items, and help us fill the bags at an annual Christmas bag packing party.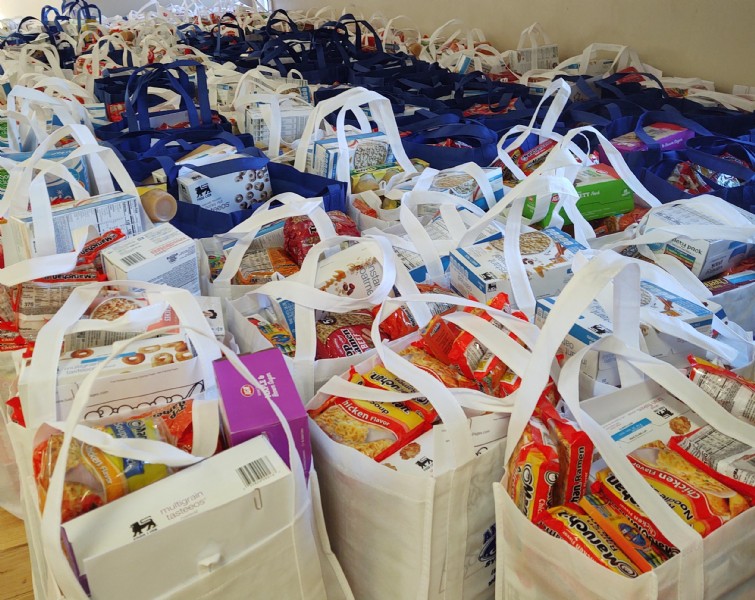 Special Events
Fundraising Events are held throughout the year. Many local businesses and restaurants have sponsored fundraising events. Individuals may support UCM by choosing UCM for your Facebook fundraiser and by choosing UCM as your Walmart round up recipient. If you would like to sponsor a fundraiser, please email the Director of Outreach.
Watch video: Hunger is Real
In the News
UCM welcomes new director [The Sylva Herald, 8/2/23]
JCEC students help out UCM [The Sylva Herald, 5/24/23]
UCM teaming with Dillsboro River Co. for food drive, Tuck fun [The Sylva Herald, 5/18/23]
WCU Fraternity wins award for support of UCM [The Sylva Herald, 5/10/23]
Community Garden supports UCM [The Sylva Herald, 3/15/23]
DSS donates baskets for Walk 4 Jackson Raffle [The Sylva Herald, 3/2/23]
UCM hosts fundraiser to continue its mission [The Sylva Herald, 2/13/23]
Light1031: Episode 4 Podcast: UCM Part 1 [01/29/23]
Helping Hands Podcast by Lili Stapel, WCU Journalism & Photography Student [12/20/2022]
Heating and other help available [The Sylva Herald, 10/20/22]
DSS Drive Rounds up Essentials for UCM [the Sylva Herald, 09/15/22]
Helping Hands for Kids [The Sylva Herald, 08/25/22]
Nonprofits help Jackson kids prep for school year [The Sylva Herald, 08/11/22]
UCM Receives grant from Great Smokies Health foundation [08/16/2022]
A Shining Example of Good Works [The Sylva Herald, 06/30/2022]
UCM event showcases services, new space [The Sylva Herald, 06/23/2022]
Times get tough, but food banks find a way [The Sylva Herald, 06/09/22]
Dillsboro River Company food drive [The Sylva Herald, 06/02/2022]
UCM set to host fundraiser walk March 19, 2022
Act of Kindness: Food Lion gives boost to UCM [02-02-2022]
UCM helps residents, school children article in Sylva Herald [12/2/2021]
Jackson Community Foundation announces $34,150 in local grants article in Sylva Herald [12/2/2021]
Dogwood Health Trust partners with UCM on pantry expansion [11/30/2021]
Food Lion partners with UCM [11/03/2021]
Dogwood Trust visits UCM [10/29/21]
#FiveFruits Challenge [2/24/2021]
UCM announces new leadership [1/29/2020]
Acts of Kindness: Shoppers step Up [1/13/2021]
Jackson County has FEMA funds to distribute here for food and shelter [1/13/2021]
New leadership, same mission for UCM [1/20/2021]
Acts of Kindness; Giving in the spirit of the season [12/2/2020]
UCM Going Strong at 30 [11/20/2020]
Legacy of Kathy Cross celebrated [9/9/2020]
UCM offers donation cards [12/4/2019]
Act of Kindness: Bags for the break [12/24/2019]
Board of Director Meetings
The UCM Board of Directors meets at 7 pm on the third Thursdays of the following months: January, March, May, July, September and November. Anyone is welcome to attend. Please call the UCM office for the location of the upcoming meeting at 828-586-8228.
Annual Meeting
The annual meeting of member congregations and the Board of Directors is in October. Any Christian congregation located in Jackson County is eligible for membership. Each member congregation should send at least one representative to the annual meeting whose purpose shall be to elect persons to fill vacancies on the Board of Directors.
Upcoming Events
We'll be updating our calendar with new events soon. Check back for updates!